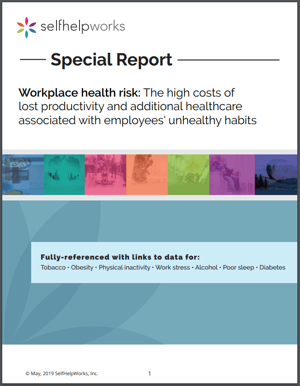 We've summarized key data into an easy-to-read report for the entire wellness industry to use, download it now for free.

The report gives you data and insights for specific lifestyle-related factors related to the six main behavioral drivers of chronic disease, as well as diabetes.
Includes:
Prevalence (percentage of population affected)
Dollar costs of annual productivity loss per person affected
Dollar costs of additional annual healthcare per person affected
Average annual organizational cost per 100 employees
Enter your information to get the special report now.
---
About SelfHelpWorks
SelfHelpWorks is a leading provider of online video-based lifestyle and disease management programs, designed to reduce health risk within organizations. SelfHelpWorks uses an evidence-based cognitive behavioral training process to target the psychological drivers of unhealthy behaviors, including stubborn habits that resist traditional behavior modification techniques.