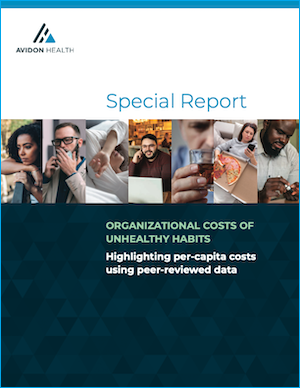 We've summarized key data into an easy-to-read report for the entire wellness industry to use, and we wanted to let WELCOA members download it now for free before we make it available to the public.

The report gives you data and insights for specific lifestyle-related factors related to the main behavioral drivers of chronic disease, as well as diabetes.
Includes:
Prevalence (percentage of population affected)

Dollar costs of annual productivity

lost

per person affected

Dollar costs of additional annual healthcare per person affected

Average annual organizational cost per 100 employees
Enter your information to get the special report now.
---
About Avidon Health (formerly SelfHelpWorks)
Launched in 2020 following MedPro Wellness' acquisition of SelfHelpWorks, Avidon Health is a team of behavior change experts who are passionate about providing health strategies that empower people to make positive life changes. We focus on the individual rather than the condition using innovative engagement technology, impactful courses and content, and care team support to drive meaningful outcomes at scale. Read more about our recent launch.